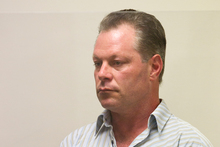 New details have emerged about a botched home kill that almost cost a slaughterman's teenage assistant his life.
Simon Alex, then 18, was hit in the shoulder area by a 7mm bullet fired at a steer by his boss, Bruce Stanley Scott, at a Helensville farm last March. Scott pleaded guilty to one charge of careless use of a firearm in the Waitakere District Court on Monday.
Court documents obtained by the Herald show Scott fired the bullet from a long-range Mauser rifle fitted with a telescopic sight.
"This 7mm rifle projectile has entered and exited the skull area of the animal, continuing through and on up to the victim squatting in the grass area on the ridge," the police summary of facts stated.
"The projectile entered the victim's front upper left shoulder area, partially severing a major artery whilst remaining in the victim's shoulder and chest cavity."
Mr Alex "immediately stood up" after being shot, and yelled to Scott for help.
The summary said Scott then rushed to Mr Alex, who was bleeding profusely from an open shoulder wound, and administered "life-saving first aid".
Police arrived soon after and found Scott in a "distressed state".
Scott accepts he did not identify or clarify where Mr Alex was when he took the ill-fated shot. In fact, he did not know where the teenager was when he pulled the trigger.
The summary also explained why police did not try to revoke Scott's firearms licence after the shooting.
Scott is a representative shooter whose ambition is to compete for New Zealand at Commonwealth and Olympic level.
"This is combined with his commercial requirement to carry and use firearms in the course of his business. Subsequently no order is sought regarding the destruction of firearms or revocation of his current firearms licence status."
By Anna Leask @AnnaLeask

Email

Anna