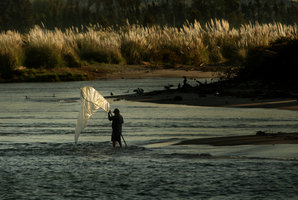 A whitebaiter's prolific start to the season enabled him to buy a larger than normal stash of cannabis, a court has heard.
Dale Douglas, 56, unemployed, of Cape Foulwind, was due to defend a charge of possession of cannabis for supply in Westport District Court last week.
However, when police downgraded the charge to only possession, Douglas changed his plea to guilty.
The court was told that last December police stopped Douglas on Derby St and due to the smell of cannabis, searched his car.
They found an icecream container with 140g of dried cannabis divided into one-ounce snap-lock bags and another two boxes of snap-lock bags.
Defence lawyer Doug Taffs said Douglas was a whitebaiter and every season he went off the benefit and declared his whitebait earnings.
The season had been particularly good before his arrest so he had been able to buy himself a larger amount of cannabis than usual.
As the house bus he lived in had no fridge, he would go to his friend's house to clean, weigh and bag the whitebait, which explained the boxes of snap-lock bags, Mr Taffs said.
Douglas' last cannabis conviction was in 1980 - it was a long-standing habit.
He realised cannabis wasn't the best method of pain control, Mr Taffs said.
It would be disingenuous to say Douglas was now going to turn over a new leaf, but he would try.
Judge Gary MacAskill fined Douglas $300.
- The Westport News