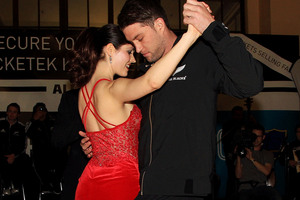 Cory Jane learns to tango with New Zealand Tango Champion Felicity Flower during a New Zealand All Blacks tango lesson at Wellington Railway Station. Photo / Getty Images
All Black Cory Jane didn't quite show a clean pair of heels to tango partner Felicity Flower as she put him through a lesson in Wellington yesterday.
You could almost see the winger, usually so light-footed, counting out his moves as Ms Flower took him through the Argentine dance as part of the city's Power and Passion Festival in the lead up to Los Pumas' clash against the All Blacks this Saturday at Westpac Stadium.
New Zealand Rugby Union chief executive Steve Tew said the festival was about celebrating the South American team's week-long stay in the city.
Businesses were being urged to black out their stores in the lead-up to the test and the festival would culminate at a Fan Zone at Odlins Plaza on the waterfront featuring an Argentine barbecue, face painting and live music.
"Wellingtonians had so much fun during Rugby World Cup and almost one year on to the day, they have another chance to relive some of the excitement and passion of that great event," said Tew.