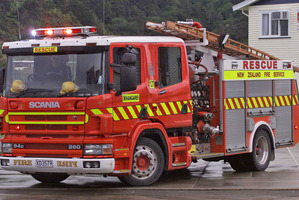 The family had been in the house only six weeks. Photo / File
A family of five had no idea their wooden Canterbury house was well ablaze until a passing friend ran in to alert them.
The Rees - dad, mum and children aged 13, 10 and nine - were oblivious to the fire in the roof cavity of their home on Mackie St, Methven on Saturday night because their two working smoke alarms failed to go off.
Methven Volunteer Fire Brigade chief fire officer Selwyn Allred said by the time firefighters arrived, shortly after 10pm, the heat build-up was intense.
"When we opened the doors to the house it really went up," he said.
The family had been in the house only six weeks.
A fire safety investigator was yesterday trying to determine the cause of the blaze, which started around the chimney flue.
Mr Allred said it appeared the bulk of the internal damage was to Mr and Mrs Ree's bedroom. The rest of the house sustained smoke and heat damage.
"It was a reasonably serious fire really," Mr Allred said.
"The mum and dad have lost a lot of their clothes and personal gear because it was their bedroom which mainly got burnt."
It was fortunate the family was alerted when they were, he said.
"They didn't actually realise what was going on."
The family were insured and assessors were expected to inspect the damage today.
Mr Ree said he was grateful his family escaped unharmed and the community had rallied to support them.