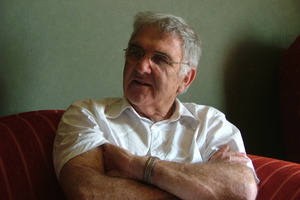 Graham Crawshaw. Photo / APN
Graham Crawshaw, a radical educationist who spent years teaching reading skills to at-risk boys, has died.
The 81-year-old (right) was best known for the Reading for Rascals programme he ran with his wife, Joan Crawshaw, at the 14ha Windy Ridge Boys Farm in Warkworth, spurred on by a strong Christian belief.
The camps, which combined phonics-based literacy lessons with bushcraft, offered an alternative learning programme for boys marginalised by the mainstream education system.
Mr Crawshaw died of a heart attack at his home at Windy Ridge on August 26.
"Dad's passion was that everybody had it in them to be clever and smart ... They just needed to be nurtured and loved in the right atmosphere," his daughter Miriam Holloway said.
In 2003, Mr Crawshaw was awarded the Queen's Service Medal for his life-long literacy campaign.