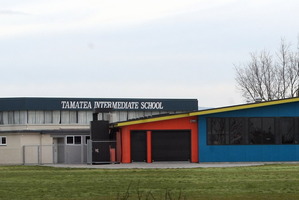 Tamatea Intermediate School has had a crackdown on a painful game called 'sac tap'. Photo / Duncan Brown
A schoolyard game involving flicking boys' testicles has elevated to a "full-fisted punch" to the groin and has landed at least two boys in Hawke's Bay Hospital this year.
The game, called "sac tap", involved boys backhanding the testicles of others. It had taken on a more forceful development, according to a Taradale mother, whose son had to have surgery after being punched in his groin.
The mother, who did not want to be named, said she was worried the game was spreading through Hawke's Bay.
"I'm not talking an open-handed hit but a full-fisted punch," the woman said. "My son had it done to him a few times by a high school boy at a club he attends. He told him to stop it and the response was, 'You're too young for it to hurt'.
"My son says the game is dumb. The idea is that they walk up to someone and punch them in the groin by surprise."
The boy, who attends Tamatea Intermediate School, recently had surgery because of testicular torsion, a twisted testicle.
His mother wasn't sure if the torsion was a result of being punched in the groin but a doctor at the hospital told her he had seen about 10 similar cases in the past three weeks.
"I really want to get the message out that it is not acceptable behaviour and could have a huge impact on someone," she said.
Tamatea Intermediate principal Roy Sye said it had a crackdown on the game but was unaware it now involved boys punching one another in the groin.
Hawke's Bay Hospital urology consultant David Mason said he had treated two students this year for pain as a result of the game but said it was unlikely it would cause a twist, or torsion, of the testicle.
for more articles from this region, go to HAWKES BAY TODAY