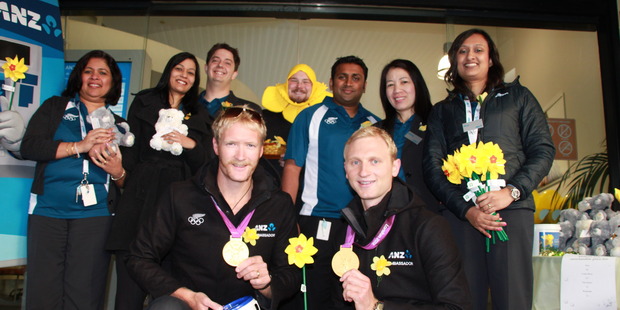 New Zealand Olympians are among scores of volunteers collecting for the Daffodil Day Appeal across the country today.
Gold medal rowers Eric Murray and Hamish Bond were on Auckland's Queen St this morning, while triathlete Hamish Carter was in Newmarket, rower Emma Twigg was in Wanaka, cyclist Natasha Hansen was in Invercargill and netballer Temepara George was in Parnell.
Murray and Bond were more than happy to volunteer their time for the Cancer Society's annual fundraising appeal.
"The money raised by Daffodil Day does so much great work in communities around New Zealand, supporting people who have cancer and their families.
"We both feel strongly about this cause and it's a real privilege to be able to help out," Murray said.
"I've had a couple of relatives (with cancer). You're quite lucky if you don't know someone who has been impacted."
Cancer Society Auckland chief executive John Loof says one in three New Zealanders will be affected by cancer.
"So many of us have a story," he says.
"Daffodil Day is a time to reflect on this disease and those affected. Most of all it is all about hope.
"We don't receive any direct government funding, so Daffodil Day is a very important day for us."