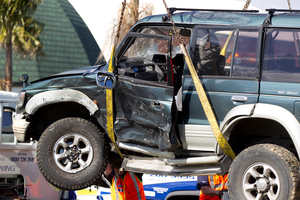 Sio Onesi, 17, and his three siblings aged 16, 11 and 9 lost their mother, Liku, when a police car and their family's four-wheel-drive collided. Photo / Richard Robinson
Police are appealing for witnesses to a fatal crash between one of their patrol vehicles and a 4WD in South Auckland.
Liku Onesi, a mother of four, died in an ambulance on her way to Middlemore Hospital after the collision with a police patrol car at an intersection on Ormiston Rd last Wednesday.
Her husband John was seriously injured.
The police officer, who had been on the way to an emergency, suffered minor injuries.
Investigators today said they want to speak to the driver of a white truck which was at the intersection of Ormiston and Preston Rds around the time of the crash.
Its driver would have witnessed the collision, police said.
To give information call Counties Manukau police on 09 261 1321
- Herald Online