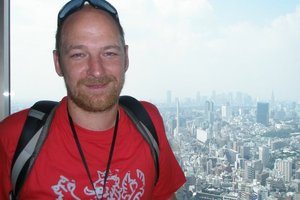 Billy Dawson died after being attacked near the Spy Bar in downtown Auckland. Photo / Supplied
The ex-girlfriend of a man who died in an altercation during a night out to celebrate the Rugby World Cup left a court in tears today after his killer was found guilty of manslaughter.
Kit John Murray was found guilty today by a jury in the High Court at Auckland over the death of Sky TV worker Billy Dawson following an altercation outside a bar at the Viaduct Harbour last October.
As the jury's verdict was read out, Murray stood emotionless in the dock, looking straight ahead.
Mr Dawson's ex-girlfriend Eva burst into tears immediately left the court, declining to speak to the media.
Murray was accused of punching Mr Dawson outside the Spy Bar, causing him to fall straight back without being able to break his fall.
He suffered bleeding to his face and a fractured skull, and died the following day in Auckland Hospital.
Mr Dawson's colleagues from Sky TV were also present as the verdict was read.
"Obviously we're happy....as much as we can be," one woman, who declined to be named, said afterwards.
The Crown said it was a fatal, deliberate punch that ended Mr Dawson's life, but the defence said it was a split-second act of self-defence.
Crown prosecutor Natalie Walker said Mr Dawson had bumped into a man as he left Spy Bar.
She said Mr Dawson had made a racist remark before his legs were swept from under him and he was held down and slapped in the face.
Another man put his boot in Mr Dawson's face before bar security stepped in and broke it up.
She said Mr Dawson was walking away when Murray approached him and without provocation punched him in the face.
Doorman Fletcher Porter said Mr Dawson's head made a "sickening thud" when it hit the pavement.
DJ Jeremy Kingi told the court he saw Mr Dawson being slapped in the face on the ground outside the club by another man.
Mr Kingi said he knew one of the men involved and was trying to get him in a taxi when Mr Dawson shoved Murray.
He said Murray responded by shoving Mr Dawson back and then punched him in the face.
"It was pretty clear that it knocked him out. He was knocked out after he received the punch and then he went down."
Under cross-examination from defence lawyer Andrew Speed, Mr Kingi said he heard Murray saying "just walk on, move on" before he struck out.
Murray was remanded in custody for sentencing in October.
- APNZ