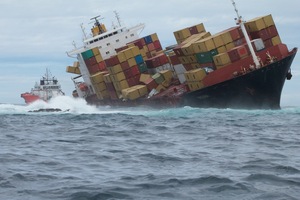 A court appearance for the registered owners of the MV Rena has been delayed - to the first anniversary of the container ship's grounding on Astrolabe Reef.
Charges laid against Greece-based Daina Shipping Co under parts of the Resource Management Act 1991 were to be heard in Tauranga District Court today, but the case has been adjourned until October 5.
The ship crashed into the reef in the early hours on the same day last year after deliberately cutting corners between Napier and Tauranga, resulting in 350 tonnes of oil flooding into the ocean and New Zealand's worst maritime environmental disaster.
The charges, relating to the "discharge of harmful substances from ships" in the coastal marine area, carries a maximum fine of $600,000 and $10,000 for every day the offending continues.
Captain Mauro Balomaga and navigational officer Leonil Relon are each serving seven month jail sentences, having been convicted separately.
Company representative Konstantinos Zacharatos travelled to Tauranga in July to apologise to local dignitaries.
The next phase of the ship's salvage, which got underway this month, will likely take until early next to complete.