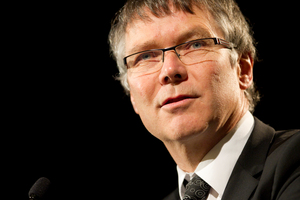 Labour finance spokesman David Parker yesterday produced what he called a "road test" on National's economic policies and gave it a"fail."
He argued that Labour had more substantial policy alternatives to National's"micro interventions."
Mr Parker said National had failed to close the wage gap with Australia; to create more jobs, to lift wages, to have 40 per cent of the NZ Super Fund invested in New Zealand, the reduce income equality, and to build a more prosperous and ambitious New Zealand.
"Instead of trying to complete its goal, this Government abandons them and creates new ones," Mr Parker said.
He said laundry lists are not strategy, citing Naitonal's"120-point action plan;" 10-point better public services results target," and the 11-point"Key commitments to you."
"If you've got a list of 100 things you are going sometimes you dont have the core strategy that is needed to drive towards those long lists."
National had a lot of"micro interventions" whereas Labour policy included some "big levers" including a capital gains tax, universal workplace savings, lifting the age of entitlement to superannuation over time, and changes to monetary policy.
Labour did not believe New Zealand should be reliant on pastoral industries and wanted to broaden the export base.
That meant that not everything a Government did should be directed at the whole of the economy.
Countries that were successful at building high value exports went beyond whole of economy measures to sectoral level initiatives or enterprise initiatives.
"We are considering accelerated deprecation that could be cut up in a number of ways."
Sectors such as forestry could be targeted or enterprises, for example, that were embarking on exports but had turnover less than $2 million could be eligible for accelerated depreciation for plant.
"that marks a major difference between us and National who's approach essentially.. is'you reduce the barriers for business and a thousand flowers will bloom'."
"We say we've concluded that New Zealand cannot get there alone off the back of agriculture therefore there is more stimulation needed in certain parts of the economy."
Mr Parker said New Zealand under-performed compared to Australia had each of those policies.
Mr Parker left last night on an overseas trip to visit the OECD in Paris, and meet economists including Nobel Prize winner Joseph Stiglitz, and billionaire investor George Soros.