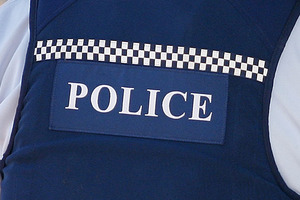 The police dog was not injured during the incident. Photo / File
A police dog took down a man swinging a samurai sword at passing traffic in Upper Hutt early yesterday.
Inspector Shane Cotter said the man swung a sword at a passing motorist in Silverstream about 3.40am yesterday but missed.
He swung again at police when they arrived.
"The man approached the dog handler with the sword raised. He was asked to put it down but refused to do so, so the police dog was released and took the man to the ground," Mr Cotter said.
He was taken to Hutt Hospital where he had treatment for dog bites to his leg.
Mr Cotter said in that situation, police would have been justified in using lethal force against the man and armed police were on their way to the scene.
"The police dog handler's actions were brave in the circumstances, obviously everything unfolded very quickly and he took appropriate action to keep himself and the public safe."
The police dog was not injured during the incident, he said.
"Link did a good job."
Swinging a sword in the middle of the night along a rural road was an "odd thing" to do, he said.
The Independent Police Complaints Authority would investigate the incident, Mr Cotter said.
"Whenever a person is injured because of police actions...there is an IPCA investigation that takes place and that will occur in this place."
A 31-year-old man has been charged with assault, resisting police and possession of an offensive weapon.
He was due to appear in Lower Hutt District Court on Thursday.
- APNZ