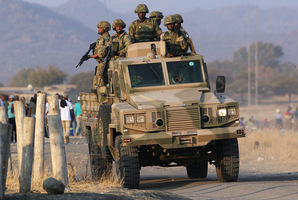 Police task force vehicle drives through Lonmin mine near Rustenburg, South Africa. where police shot dead 34 striking miners. Photo / AP
More than sixty protestors made their voices heard outside the South African Consulate in Auckland this afternoon after police shot dead 34 striking mine-workers.
Political activist John Minto said the ANC government was responsible for the deaths of the mine workers after running free market economic policies for the 18 years they have been in government.
"We shouldn't just turn our backs and say we think things are okay in South Africa now because they're not and just as we held the old apartheid regime responsible for the massacres in Sharpeville and in Soweto, we have to hold the ANC government responsible for the massacre that occurred of the mine workers in the last few days,'' he added.
Mr Minto said there was now "economic apartheid" in South Africa rather than "race-based apartheid" like in the 1970s and 1980s.