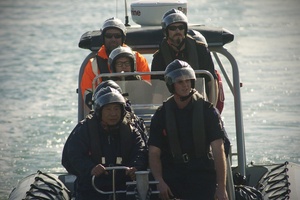 Five men were plucked from their sinking yacht off the tip of the Coromandel Peninsula early this morning after being caught out by a fast-moving storm.
The men were out for a quiet night's fishing when a nasty storm blew through about 4:30am, said Auckland Police Maritime Unit coastal master Adrian Howitt.
"Sometime between pulling anchor and trying to find a safe place to shelter, they grounded on rocks," Howitt said.
"It would have been cutting up rough out there."
An emergency call was made from the boat, called Stager, about 5.45am when it started taking on water by Cape Colville.
Howitt said the mayday call was picked up by the HMNZS Canterbury, which sent a helicopter.
Police dispatched two Coastguard vessels and a Westpac Rescue Helicopter.
The naval seasprite helicopter winched two of the five occupants from the sinking vessel onto the HMNZS Canterbury.
One of the Coastguard vessels, from Great Barrier Island, transferred the other three onto its vessel moments before the Stager vanished completely from the sea surface.
The men were all wearing lifejackets and were just "cold and wet" when pulled aboard, said Howitt.
All five were brought back to Auckland by the HMNZS Canterbury. They were to submit an accident form before an investigation would be carried out.
Sgt Graham Jex of the Police Maritime Unit said the rescue effort 'absolutely clicked' and was successful in a situation which could easily have resulted in tragedy.
Two more rescues
It was a busy night for the Martime Unit, which had to make two other rescues last night.
One person was rescued after a kayak overturned off Rothesay Bay on Auckland's North Shore.
Two more people had to be winched in after their dinghy flipped further up the coast at Stanmore Bay.
- HERALD ONLINE