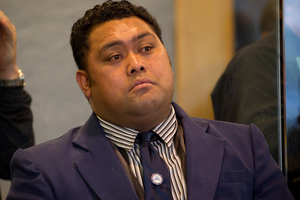 Kefu Ikamanu. Photo / Greg Bowker.
A father accused of throwing his daughter against a wall told medical staff the 2-year-old crossed her eyes before her limbs went rigid, a court has been told.
Paediatrician Dr Patrick Kelly interviewed Kefu Ikamanu and his wife the day after Seini, aged 2, was admitted to Starship Hospital with head injuries in March 2010.
The clinical director of Auckland's child abuse investigation team told Ikamanu's murder trial in the High Court at Auckland that Ikamanu told him Seini and her little brother had been playing with a ball in their home when Seini walked away and sat on the couch.
Ikamanu said he noticed Seini's eyes were crossed.
"It appeared Seini had collapsed on the couch with her arms and legs out stiff, her head tilted to one side and her arms and legs went straight.''
Ikamanu, who has denied throwing Seini against a wall and stomping on her, told Dr Kelly that he tried to bend Seini's arms and feet before grabbing the girl's hands in one hand and her feet with the other.
"He said it was a struggle to flex and bend her legs and he succeeded for a short time but then her arms and legs went stiff again.''
Ikamanu said her teeth were clenched and he tried to work a fork between them but broke one of her teeth.
Seini was also put under a running shower but that only made her lips shiver. Ikamanu said after he massaged her chest and stomach, Seini cried.
He then rang his wife at work who later called an ambulance.
That version of events differs from what Ikamanu told Detective David Paea in a recorded interview played to the court yesterday.
In that interview, Ikamanu described grabbing Seini and pulling her by her hand towards him. However, both he and Seini let go of each other's hands and the girl's head hit a wall.
Dr Kelly examined Seini while she lay in Starship's intensive care ward on a ventilator. She died at Starship eight months after she was injured.
He told the court he found bruising on her thighs, genitals, back, lower chest and arms.
Photos of the bruises and grazes to Seini's body were shown to the court. A photo of her face shows extensive swelling as well as bruising on her eyelids.
"The bruising to the upper eyelids is weird ... It's a very uncommon location for accidental bruising,'' Dr Kelly said.
Dr Kelly also gave evidence about Seini's fractured pelvis, broken collarbone and a broken bone in her foot.
Neuro radiologist Dr Ayton Hope told the court that MRI and CT scans taken after brain surgery showed over 70 per cent of Seini's left side of her brain was dead.
He showed scans of Seini's skull which indicated the bones had come apart to allow for the swelling of her brain.
Ikamanu's trial, on charges of murder, injuring with reckless disregard and causing grievous bodily harm, is due to finish next week.