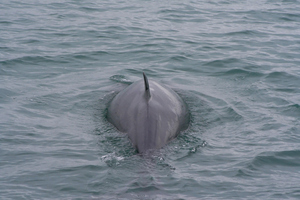 Do you have photos of the volunteers and the whale?
Click here to contact editors at nzherald.co.nz
A whale stranded on a Northland beach has returned to shallow waters after being refloated by volunteers tonight.
The young male Minke whale became stranded on the shores of Patea Beach, near Whatuwhiwhi in Northland just after 8am today, said Department of Conservation spokeswoman Carolyn Smith.
A group of volunteers stayed with the whale, keeping it wet before two boats helped move it onto a pontoon where it was refloated at high tide around 6.30pm.
"But unfortunately it swam straight back in again," she said.
The 8m-long (CRRCT) whale remained in shallow water near the shore.
It was not unknown for Minke whales to become stranded but they were "quite fragile" and did not cope well with long periods on land, said Ms Smith.
Community and DOC representatives were deciding how to best help the whale.
- APNZ