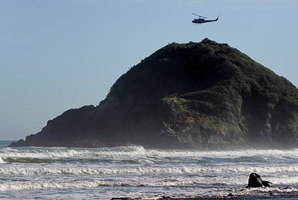 Searchers have been out every day this week hunting for three missing climbers who fell off a New Plymouth rock more than a week ago, but are yet to find any sign of them.
Bryce John Jourdain, 42, and 17-year-olds Stephen Kahukaka-Gedye and Brazilian exchange student Joao Felipe Martins De Melo have been missing since a climbing expedition near New Plymouth last Wednesday.
The Spotswood College students fell into the sea and Mr Jourdain, a Taranaki Outdoor Pursuits and Education Centre instructor, dived in to try to save them.
Taranaki Search and Rescue senior constable Jeff McGrath said land and sea searches have been conducted every day this week, including today.
There was a possibility another aerial search could be made later today, he said.
The weather could have been better for the search this week, but it had not prevented the search.
A date for when the search would be called off has not yet been set, "but there will come a time that the decision needs to be made that the search can't continue forever", Mr McGrath said.
A number of other people not associated with the official search party were also out searching for the missing three, who are presumed drowned.
- APNZ