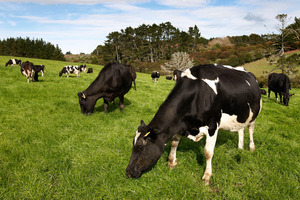 A dairy farmer had to be rescued after getting lost while trying to get back stock that had escaped from his farm.
The 68-year-old went into the Kinleith Forest on Tuesday with his son to get back stock which had escaped from the farm, but after returning the animals to their paddock, the son could not find his father.
Senior Constable Barry Shepherd of the Taupo police said the alarm was raised about 8pm on Tuesday.
"By midnight three land search and rescue search teams and a land search and rescue dog were in the forest searching for him," Mr Shepherd said.
"Despite searching until 4am he could not be found."
Mr Shepherd said a police dog handler and his dog found the man just before 8am yesterday in the forest not far from the farm boundary.
"Despite being a little cold and hungry, and enduring a night out in cold and showery weather, the man was in good shape. After being found he was taken home for a hot shower and some well deserved breakfast," he said.
"He had become disoriented while rounding up the animals, then could not find his way out in the dark. Fortunately he was well dressed for the cold."
- Rotorua Daily Post