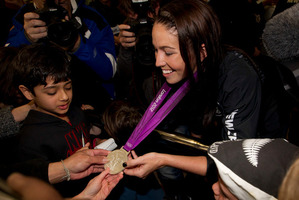 Sarah Walker shows her Olympic medal to fans at Auckland International Airport. Photo / Steven McNicholl
Towns and cities across the country are gearing up to celebrate the return of their triumphant Olympians.
Members of the New Zealand Olympic team, who arrived in Auckland this morning, will be officially welcome in Christchurch next Friday.
But while the Hagley Park event will be the centrepiece of the Olympics celebrations, councils and sports clubs in the Olympians' home towns are planning their own celebrations.
In the Bay of Plenty paper mill town of Kawerau, locals were getting excited about the return of silver medal-winning BMX cyclist Sarah Walker.
Kawerau Mayor Malcolm Campbell said it would be "great to have her home".
"Everyone was very excited for her and really pleased. She's worked hard - she's worked very hard.''
The council would plan a celebration with input from Walker, her family and the local Gravity Sports Club.
"Last time she didn't even get a medal and we turned the town upside down for her, so I'm sure there's going to be something in the wind," Mr Campbell said.
"She'll be getting inundated with people wanting to go and talk to her and all the rest of it, so we'll just wait to let her get her breath and then we'll talk to her about what we want to do."
Mr Campbell said Walker was a popular member of the community.
"She's a pretty down-to-earth sort of a girl and everybody talks to her. She's grown up in the town since she's a little girl, she's born and bred here, her mum and dad live her."
In Kerikeri, Northland's first Olympic medallist in 16 years will be welcomed home with a tickertape parade tomorrow.
Silver medal-winning 49er sailors Blair Tuke, of Kerikeri, and teammate Peter Burling, of Tauranga, will be joined by Andrew Murdoch of Kerikeri, who finished fifth in the laser class.
The parade, featuring an army cadet flagbearer and marching ladies, will culminate with a Kerikeri High School kapa haka group performance and a speech from Far North Mayor Wayne Brown.
In the Picton home town of rower Joseph Sullivan - who won gold in the double sculls with partner Nathan Cohen - details of an upcoming civic event remain hush-hush.
Picton-based Marlborough District councillor David Oddie confirmed a sign would be erected, but said details of the event were "all secret".
Marlborough Mayor Alastair Sowman said the council and Picton Rowing Club had not yet set a date for the event because it was not known when Sullivan would return.
Sullivan was "a pretty private sort of guy" and they were working with the rowing club to see what he wanted.
Rotorua Mayor Kevin Winters said there would not be an official welcome home for the city's Olympians, including bronze-winning team cyclist Sam Bewley and gold-winning shotputter Valerie Adams, because many were staying overseas and their return dates were unknown.
He said there would be a big mayoral reception later in the year for the Olympians, world champions and national representatives.
An Auckland Council spokeswoman said the timing, location and type of any event in Auckland was still under consideration.
"In the meantime, we wish Christchurch and our Olympians well at the national celebration down south."
Christchurch Mayor Bob Parker said the city could take great pride in being selected as host by the New Zealand Olympic Committee.
"I know many Christchurch fans have been following the games, and have been there cheering as these athletes have enjoyed their proudest moments.
"We are very proud ourselves to have been chosen to host the homecoming on behalf of all New Zealand, and we're looking forward to cheering for our heroes in person."
The team - which was hoped to include most of the 27 medal-winners - would sign autographs, snap photos, answer questions and compete against fans in various activities.
- Additional reporting: Daily Post, Northern Advocate
- APNZ