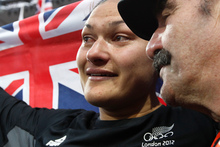 As New Zealand's Olympic heroes arrive home from London, Valerie Adams' sister thinks it would be amazing if the newly crowned Olympic champion was presented with her gold medal in her own country.
Rotorua's Gabby Adams said yesterday she was still absorbing the news Belarusian Nadzeya Ostapchuk had been stripped of shot put gold after testing positive for drugs, leaving Rotorua-born Valerie the new gold medallist.
"I'm still a bit shocked," she said. "It's so cool to see how people love her and are so proud of her, especially Rotorua."
News of the positive drug test broke late Monday night, but Ms Adams went to bed oblivious.
"I woke up at 1am because my phone kept going off, I looked at it but I was half asleep and went back to sleep. At 6.15am I turned on the TV and thought 'is this what I dreamt, this is crazy'."
She was thrilled her sister would get the medal she deserved but admitted to mixed emotions.
"I'm angry that she [Ostapchuk] knew what she was doing and she robbed Val of her medal," she said.
"It sucks that she knew on the podium what she had done."
She said she had heard of a lot of hatred aimed at "cheater" Ostapchuk.
"I don't have hate towards the Belarusian, she obviously just couldn't beat Val fair and square."
Minister of Sport and Recreation Murray McCully has said he was working with Adams' management to plan a medal ceremony when she returns to New Zealand in October.
"If she could get presented with her medal in New Zealand there could be no more glory than that. I'm pretty sure that all of New Zealand would go. It would be awesome," said Ms Adams. "It would be cool if there was a parade in Rotorua."
Adams has also said she would love to have her win honoured in New Zealand.
"I really want to hear the national anthem. I want to receive my medal with the national anthem, with our flag flying high. I think that's important because I'm a very proud New Zealander and that was a moment that she [Ostapchuk] robbed me of," she told Radio Live.
Ms Adams said she had been overwhelmed by the love and support New Zealanders had shown towards her sister throughout the games.
"She's a hero to a lot of kids, I didn't realise how much," she said. "She's still the champ. Bring on Rio."
Rotorua cycling medallist Sam Bewley tweeted yesterday "Could you imagine, winning silver, 3days later finding out you have gold after the winner tested positive. How would you feel?! ... reckon first would come happiness ... Then anger! No one has the right to take that moment away from someone.
Meanwhile Rotorua Mayor Kevin Winters has told The Daily Post there wouldn't be an official welcome home for Rotorua's Olympians, including Bewley, as many were staying on overseas and their return dates were unknown.
However Mr Winters said there would be a big mayoral reception later in the year for the Olympians, world champions and national representatives.
"It will be a combined reception of sports men and women who have done well over the last 12 months," he said. "I've done it before and it works successfully."
Mr Winters will also be in Cambridge on Friday to welcome some of the New Zealand cyclists to the site of a new cycling velodrome.
Kawerau Mayor Malcolm Campbell said the council was waiting for BMX silver medallist Sarah Walker's parents to return from London to discuss celebration ideas with them. Mr Campbell said Walker was likely to be "hot property" for a while but there would be something planned for the town, perhaps during next month's Woodskills Festival.
Whakatane Mayor Tony Bonne confirmed there will be a parade and civic reception in Whakatane for all the Eastern Bay's Olympians, including golden girl Lisa Carrington, within a couple of weeks.
As well as individual airport welcomes the main civic reception would be held "as soon as we can get at least two of them together". He said owners of convertibles were lining up to offer their vehicles for the parade, while the Whakatane High School kapa haka group was also keen to be involved.
By Katie Holland