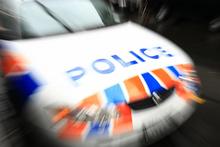 A woman has been charged with wounding with intent to cause grievous bodily harm following a crash on Wakefield Quay in Nelson today.
Police arrived at the scene just after 7.40am, after a member of the public called emergency services reporting a pedestrian being hit by a car.
Detective Senior Sergeant Wayne McCoy said a 26-year-old woman was driving a blue Mazda and veered across the road towards the opposite footpath, hitting a 40-year-old man and pinning him against a fence.
The man was believed to be the driver's uncle and was crossing the road when he was hit.
He suffered serious injuries to his leg and was taken to Nelson Hospital.
"We haven't yet been able to speak to him as he is being operated on," said Mr McCoy
He said the driver fled the scene, but then handed herself into Nelson Police at 10am.
"Alcohol was not involved - she tested nil for a breath test.
"We are also interviewing witnesses," said Mr McCoy.
The woman was due to appear in Nelson District Court this afternoon.
- APNZ