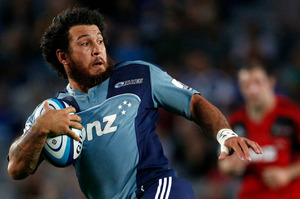 The man who alleged he was assaulted by Blues player and former All Black Rene Ranger has told the Whangarei District Court he's not stupid enough to take on a man twice his size.
Ranger, 25, was charged with two counts of injuring with intent after an incident which left a man unconscious outside Mangawhai Tavern in August, 2009.
The complainant, Jason Dick, 28, appeared via a video link today from Newcastle, Australia.
He told the court at the time of the alleged assault he was living in Kaiwaka, and on the evening of the alleged assault he was at the Mangawhai Tavern to watch band House of Shem.
He said he had been drinking prior to going to the tavern, and after the band finished playing he waited outside for a ride back to his father's house.
Mr Dick said he was waiting in a driveway across the road from the tavern "fooling around" with his brother and the next thing he remembered was "spitting my teeth out".
He said his lip was cut open and there was "blood everywhere".
When Crown Prosecutor, Grant Anson asked Mr Dick if he knew Ranger he replied he knew of him, but didn't recognise him that night.
Ranger's lawyer, Arthur Fairley said Ranger went to a pub after playing a game of rugby with some friends.
He said Ranger was then shoved from behind by Mr Dick, and Ranger reacted by pushing him to the ground.
Mr Fairley said his client did not punch Mr Dick.
Mr Dick lost two front teeth, needed stitches to his forehead and ripped tendons in his knee cap in the alleged assault.
During cross-examination, Mr Dick was asked by Mr Fairley whether the witnesses to the alleged assault were drinking. He replied that they were.
Mr Dick said he arrived at the pub at 6pm and left around 11pm.
He said it was "more than likely" he was pretty drunk at the time of the incident.
When asked whether is was possible he could have fallen over when fooling around with his brother, Mr Dick replied, "nah I don't think that's happened man".
"That night when you were waiting for your ride, and I'm suggesting that you were quite drunk, did you go up and rugby tackle Mr Ranger?" Mr Fairley asked.
"Why would I want to tackle someone twice my size?" said Mr Dick. "Are you telling me I'd look for the biggest dude next to me and have a go at him?
"I'm telling you that I didn't do that. He's twice my size man ... I'm not that stupid."
Mr Dick also admitted to having been trespassed from the Mangawhai Tavern on January 8, 2008 for what he said was "being too drunk".
Judge Duncan Harvey has warned the jury of five women and seven men that due to Ranger's public profile, media interest in the trial is inevitable.
When Mr Anson outlined the Crown's version of events he told the jury not to cut the accused "some slack" due to his public profile outside of the case.
The trial has adjourned until later this afternoon.
- APNZ