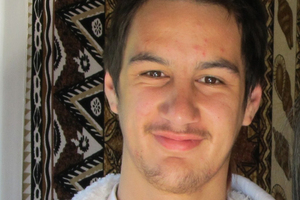 Izak Millanta. Photo / Police
Teenager Izak Millanta died in hospital after trying to protect his brother in an altercation outside a bar on the Kapiti coast yesterday morning, his grandmother says.
Josephine Tukaki-Millanta, who lives in Wellington, said Izak, 17, and his 18-year-old brother Tane were targeted and attacked by older men.
"I heard from my son they were trying to beat up Tane and that's when Izak tried to help,'' Mrs Tukaki-Millanta told APNZ
Police found Izak unconscious in the carpark of the Coastlands shopping centre about 3am after the altercation outside the Retro Bar.
He was taken to Wellington hospital where he had surgery, but he died at 2.30am today.
Detective Inspector Mike Johnson said a 25-year-old local man had been arrested in relation to Izak's death and would appear in Porirua District Court tomorrow on an assault charge.
Mr Johnson said a large team of police were still trying to piece together the circumstances surrounding Izak's death.
"We know the victim was outside the Retro Bar in the Kapiti Lights carpark sometime before 3am where he was involved in an altercation with a group of people,'' he said.
Retro Bar manager David Aitken said there were a number of people drinking in the car park outside the bar on Friday night who had earlier been refused entry for breaching the liquor ban but he did not think Izak was one of them.
Mr Aitken said one of the security guards working on the door later saw Izak being chased by some men and called police.
Mrs Tukaki-Millanta said she believed her grandsons had been targeted for some time and the attack was premeditated.
She said about a year ago she asked them what was going on but the boys refused to answer, saying if she told anyone they would "be in the s***''.
It was well-known there were problems with violence in Paraparaumu and mothers had called her in the past with concerns, according to Mrs Tukaki-Millanta.
"My grandson had to die before someone opens their mouth.
"Paraparaumu is the worst area. I told my son to get out of there but they stayed.''
Mrs Tukaki-Millanta, who is a Justice of the Peace, said Izak was a good boy who was "just coming right''.
"In my eyes he was a good boy, but behind our backs how many of us know what our kids really do?''
Izak was a keen guitarist who had attended Kapiti College and Wellington High School and had been studying at a community college in Wellington and wanting to get into farming.
Izak's father Stephen did not want to speak to media but Mrs Tukaki-Millanta said she was determined to speak up.
"I'm not shutting my mouth. I don't care if it means jeopardising anything I do, I will stand up and be counted.''
Messages of support flooded a Facebook memorial page set up for Izak Millanta.
The page was created around midday today and by 6pm had over 1700 "likes''.
Rachel Jane McGrory posted, "RIP Izak. I will always remember your mischievous smile. Gone far too soon but never forgotten and always loved. Rest easy little one.''
Katelyn Danielle posted, "Izak I have just found out now, it brings so many tears to my eyes. You were such a great person inside and out.''
A post-mortem examination was being carried out today and police were still appealing for information from members of the public.
"If there is anyone who is holding on to information in relation to this incident and has not spoken to police yet, I urge you to come forward and speak with us,'' said Mr Johnson.
- APNZ