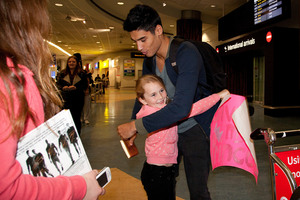 Their name says it all.
British boy band The Wanted were clearly just that, wanted, by dozens of screaming girls last night at Auckland Airport.
Fans welcomed the boys - Tom, Max, Siva, Jay and Nathan - into the country with signs, hugs and plenty of photos, which they were happy to pose for.
The band are in New Zealand for two days to promote their new self-titled album, which includes their hit song All Time Low.
They have spent the past five days in Australia where Max made the news for snogging a mystery blonde in a nightclub, despite being engaged to Coronation Street star Michelle Keegan.
The Wanted will perform a private show at a secret location in Auckland tonight for the winners of a radio competition.
The young boys have sold more than one million albums worldwide, topped music charts and have more than 150 million YouTube views.