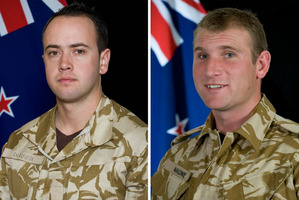 An emotional military service for two New Zealand soldiers killed during an ambush in Afghanistan is underway at Burnham Military Camp.
Lance Corporals Pralli Durrer and Rory Malone, both 26, were killed when their patrols went to the aid of ambushed Afghan police in Bamiyan province last Saturday.
Another six New Zealanders were injured in the incident that the Taleban has claimed responsibility for.
Today's military service started at 1pm inside a packed army gymnasium at Burnham, filled with comrades of the fallen soldiers, family members, top military brass, and dignitaries including Deputy Prime Minister Bill English, representing the Government.
The two men's coffins were carried in to the large, quiet auditorium to start the service, draped in the New Zealand flag and adorned with their respective battalion's headdress.
After an opening address by officiating chaplains Tavake Manu and Paul Stanaway, the gathering stood to sing the hymn, Amazing Grace, before a prayer and a bible reading.
Governor-General, Sir Jerry Mateparae paid tribute to the soldiers "on behalf of the nation''.
He was followed by the Commanding Officers of the 2nd and 1st Battalion Royal New Zealand Infantry Regiment and Queen Alexandra's Mounted Rifles who spoke about Malone and Durrer as men, and soldiers.
Before the service, Colonel James Kaio, of the Queen Alexandra's Mounted Rifles, paid tribute to Durrer on behalf of his unit.
Durrer, who joined the army in 2004 as a rifleman, went to East Timor in 2006 on his first tour of duty as a signaller.
He returned looking for a new challenge, his commanding officer said today, and qualified as an armoured vehicle crew commander.
Col Kaio described Durrer as both mischievous and staunch, and possessing "the heart of a lion'' who stepped up in battle.
"He was one of these guys who never backed down,'' he said.
"We've had reports from his company commander that he and his LAV (light armoured vehicle) crew not only saved our Afghan police ... but when our guys were taking fire, Durrer's vehicle was putting a lot of heavy fire back into the insurgent forces who were there.''
Lt Col Stefan Michie, Commanding Officer of the 2nd and 1st Battalion Royal New Zealand Infantry Regiment, said Malone's former comrades are ``hurting bad'' but added "the mission will always come first''.
He described Malone as a popular member and witty member of the unit who was "a real pillar of morale''.
But he was also known for his high standards, determination and an uncompromising approach, which saw him top his recruit course, and infantry basic training, as well as winning his battalion's 'top soldier' competition.
Members of both men's family will give a tribute and show images of their fallen loved ones while the Last Post is played.
After closing words from Lieutenant General Rhys Jones, Chief of the Defence Force, pallbearers will carry the caskets out of the gymnasium and onto two gun carriages towed by army landrovers.
A military salute from the Funeral Firing party will fire three volleys in to the air before the procession, led by a light armoured vehicle, will lead the caskets through the camp grounds, lined by soldiers, to the front gate.
The two men's battalions will perform a haka at the gates, signifying their final goodbyes to their fallen comrades, before they are handed over to hearses for the families to take away for their own private funeral services.
A civil service for Durrer will be held in Christchurch on Monday, with one for Malone in Auckland on Wednesday.
- APNZ