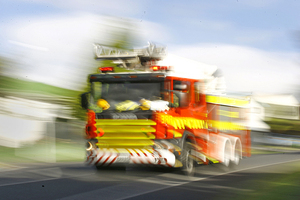 File photo / NZ Herald
A review of the Fire Service will consider how to make it more efficient and whether its funding should change to reflect its increased work in areas such as natural disasters, rather than solely fires.
Internal Affairs Minister Chris Tremain announced the review today, saying an independent panel would be appointed to advise on how the service operates, how it should be structured and its future funding.
One of the stated aims was to ensure the service was as efficient and effective as possible and provided "value for money into the future" - a phrase that indicates the Government is looking for cost savings.
The terms of reference state that the Fire Service faces several problems and its job has developed over time to include duties that did not involve fires, such as helping in natural disasters.
As a result, its work often overlapped with other emergency services such as ambulance, rescue groups, and Civil Defence.
It proposed the review panel consider who the Fire Service's current and future "clients" were and what its staffing and financial needs were likely to be.
It would also review the current locations of fire services, the assets the Fire Service had - including land and fire appliances - and ways to encourage volunteer fire fighters.
It said the funding arrangements of the Fire Service no longer aligned with its actual work and did not provide a stable base. At present, the Fire Service is funded by property insurance levies and rural fire authorities are funded by local authority rates, with some funding also from the Defence Force and Department of Conservation.
The review proposes retaining a levy on insurance contracts but widening it and looking for other potential funding sources.
It said the levies should not only be paid by property owners with fire insurance but also others who used the fire service.
Mr Tremain said changes were required to the current funding model and the panel would be told to find a model that was better aligned with the actual functions of the Fire Service.
"Funding needs to be stable, equitable and predictable."
The review will cover both the Fire Service Commission and the Rural Fire Authority, which governs 76 rural fire services.
The review would not consider employment issues - such as conditions for paid professional firefighters - or whether rural fire authorities should manage fires on forest and rural land.
It is due to report back to the Government by mid December.