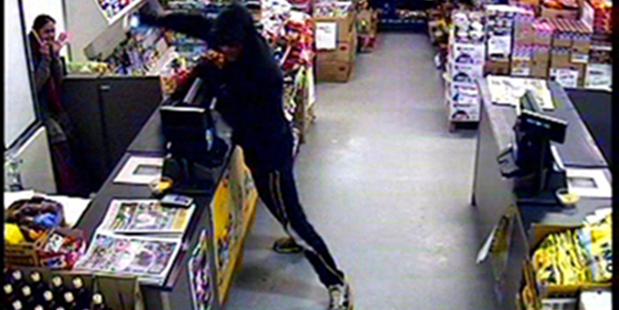 A supermarket worker cowered in fear when she was confronted by a knife-wielding robber who demanded cash - but escaped with only a packet of chewing gum.
Chandan Gosai, 35, was behind the counter at the Chapel Downs supermarket on Dawsons Rd in Clover Park, Manukau, when the robber entered the store.
She was suspicious straight away because he wore sunglasses even though it was about 9.35pm. Her fears were confirmed when he demanded money and showed her a knife.
Ms Gosai called for help and the man reached over the counter and tried to open the till. When he failed to, he grabbed a packet of chewing gum and fled.
Although shaken by the July 29 attack, she was able to carry on working. But last night she said she hoped he would be caught quickly.
Manager Resham Singh came out of the office in time to see the robber run from the store. The whole episode took less than 20 seconds.
"These situations happen everywhere. We just have to be alert all the time," Mr Singh said.
He said the robber was prepared. "He was a very fast man. He was ready for the mission. He might have run up the road. Someone was probably waiting there to pick him up."
The man, a Maori or Pacific Islander, was 1.8m to 1.85m in height. He was wearing dark clothes and running shoes.Andrew Koubaridis
CAN YOU HELP?
Anyone with information should call Detective Senior Sergeant Darrell Harpur of Counties Manukau East CIB on (09) 251-2886 or call Crimestoppers anonymously on 0800-555-111.