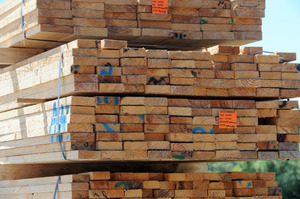 File photo / NZPA
A company has been ordered to pay more than $70,000 in fines and reparations after a worker suffered a serious injury when his foot became trapped in an unguarded conveyor.
Mt Pokaka Timber Products Limited was fined $52,500 and ordered to pay reparation of $20,000 when representatives appeared at the Kaikohe District Court.
The victim was working with a conveyor that had been in full production only two weeks before the accident. The court heard that on November 10 last year, the victim was at the end of the conveyor waiting for timber product to be fed through the de-duster machine.
During a break in the flow of wood the victim rested his arms on the table and placed his right foot underneath on the channel guiding the chain. He was pulled off his feet hitting his head as he fell, and the chain took his right foot around the drive sprocket trapping his foot between the chain and the teeth of the sprocket.
The victim suffered a large penetrating laceration injury to the instep of his right foot. He was hospitalised for 17 days and is having ongoing treatment, including skin grafts.
John Howard, from the Government's labour service, said the worker experienced "injury and trauma that no person should ever be subjected to''.
"This accident could have been avoided if the company had put in place adequate machine guarding.''
- APNZ