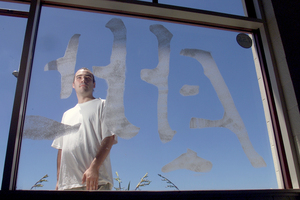 Xan Edwards says graffiti should be part of the city. File photo / APN
An artist who claims to be addicted to graffiti has been sentenced to 40 hours of community work for tagging the walls of New Zealand's most prestigious art gallery.
Alexandre Edwards was convicted for intentional damage after scrawling on the outer walls of the newly renovated Auckland Art Gallery.
Edwards, who goes by the name Xan, said tagging was a "lifeline" and he could not stop.
"I'm not trying to make a political statement. It is my way of expressing myself. I have done it forever," he said.
"I have always had low self esteem but when I see [my tag] I know I exist. Graffiti is something that should be in a city. I was dyslexic in school and couldn't write. I learned to write through graffiti," he said.
He was arrested at 4am on July 4 after a member of the public saw him tagging the gallery, and phoned police.
Edwards faced three charges of intentional damage and one of possession of graffiti utensils for the gallery graffiti. He was convicted and discharged on two damage charges and the possession charge. He was convicted and ordered to do 40 hours' community work and pay $60 to Auckland Council on the third damage charge.
Auckland psychotherapist Kyle MacDonald said tagging could not technically be diagnosed as an addiction.
"Tagging is clearly significant for some people and a compulsive behaviour that the person is getting a kick out of and is having difficulty stopping requires treatment to resolve," he said.
Auckland Council community facilities manager Kevin Marriot said the council would spend $4.7m cleaning up graffiti this financial year.
Auckland Police spokeswoman Noreen Hegarty praised the member of the public for calling police.