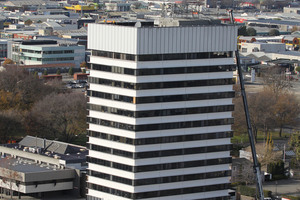 The earthquake damaged Radio Network House on Worcester Street, Christchurch. Photo / Geoff Sloan
The gates and cordons are beginning to go up around the exclusion site for New Zealand's first building demolition tomorrow morning.
Christchurch's Radio Network House on Worcester Street will be reduced to rubble about 8am.
The controlled demolition, which has been approved by the Canterbury Earthquake Recovery Authority (Cera), will be the first of its kind in the city since authorities began the massive task of bringing down the hundreds of quake-damaged buildings.
Ceres, the American company in control of the detonation, will use 63kg of explosives to bring the building down in under 8 seconds. It will cost around $1 million.
The forecast for tomorrow might determine how big the crowd is for the implosion - with drizzle and northeasterly winds expected.
Anyone with respiratory conditions aggravated by dust to stay indoors, said a Ceres spokesman.
Residents in nearby buildings have been told to shut all doors and windows and cover any air intakes in case of dust.
Video after the implosion will be shown on Herald Online tomorrow.