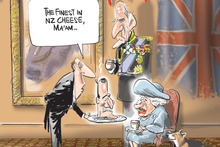 It might be a breach of etiquette to leave the price tag on a gift - but the Prime Minister's shopping receipts reveal he spent more on gifts for his friend and UK counterpart David Cameron than he did on the Queen's Diamond Jubilee present.
Mr Key had a private audience with the Queen in June and presented her with a gift of New Zealand cheeses and preserves.
He also met David Cameron - and gave him wines and, for his children, clothing and books.
Credit card expenses released this week show Mr Key's staff popped down to Kirkcaldies and Stains to buy preserves for the Queen's hamper - spending $167.35 for 15 gourmet goodies including beetroot pickle, kiwifruit caper chutney, feijoa chocolate and black doris plum jam.
The gift box of Kapiti cheeses was provided by Fonterra for free, but the Prime Minister did buy the Queen a cheese chopping board to go with it, at $55.95, bringing the grand total for Her Majesty's present to $223.30.
The gift for Mr Cameron was more personal and cost about $350 - three Baby Bundles merino tops ($199.85), a buzzy bee toy ($39.99), and children's books worth about $82.
Mr Cameron was also given bottles of wine from the PM's gifts cupboard.
The quarterly release of expenses shows Mr Key's 11-day trip to the United Kingdom, Belgium and Germany was expected to cost a total of $112,800. His total spending on travel and accommodation from April 1 to June 30 was $186,097 - which included $122,253 for overseas travel including Europe and to South Korea for the Nuclear Security Summit. The costs include staff expenses.
There were other gifts in the receipts - including a set of Oamaru stone koru bookends ($151) chosen for European Parliament president Martin Schulz because he was previously a bookseller.
However, some gifts were less personal - the Prime Minister also took a stockpile of books featuring the New Zealand landscape as gifts and two waka-shaped bowls ($125 each) - one for the Mayor of Hamburg and the other for Zimbabwe Prime Minister Morgan Tsvangirai.
Not surprisingly, Mr Key's overseas travel paled in comparison to that of Trade Minister Tim Groser - who racked up $212,000 in international travel - and Foreign Minister Murray McCully's $230,291.
However, despite cost of living increases and an increase in GST affecting travel costs, overall total ministerial spending on domestic travel and accommodation for the first six months of the year dropped from $2.4 million in 2008 to $2.1 million this year - partly due to changes in the ministerial accommodation allowance.
The amount spent on international travel has varied from $1 million to $1.6 million - over the first six months of this year, the total was $1.5 million.
The bill, please
January to June ministerial spending on domestic travel and accommodation
2008 (Labour) $2.4 million
2010 (National) $2.3 million
2012 (National) $2.1 million
Prime Minister's expenses (January to June)
2008 (Helen Clark): $153,207 + $170,626 international travel.
2010 (John Key): $178,501 + $225,452 international travel.
2012 (John Key): $154,552 + $141,754 international travel.
By Claire Trevett @CTrevettNZH

Email

Claire