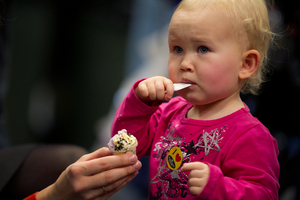 Valerie Divnova's first taste of icecream looks, surprisingly, to be an unpleasant experience.
But all is not lost, as mum Elena swaps the liquorice flavour for creamy cookie, and the 15-month-old happily takes several licks.
Thousands of people are expected at this weekend's annual Food Show at Auckland's ASB Showgrounds and many, like Valerie, will be trying a few things for the first time.
Hundreds of people were at the show's opening day yesterday, tasting examples of food and drink from around the country and the world.
People lined up to test samples at the Deep South Ice Cream stall, which was offering flavours including liquorice, blackcurrant, vanilla, hokey pokey, rum and raisin and peaches and cream.
The company's plant manager in Invercargill, Richelle Pope, said that true to its name, the icecream maker was based in Christchurch and Invercargill, and had only recently branched out into Auckland.
"We've been around for a long time, but this is the first time we've made our icecream available up here," she said.
Another popular stall was that of Albany-based Edible Blooms, which makes bouquets made of chocolate.
Managing director Sarah Bruce, who is a qualified florist, has been making the creations for four years in New Zealand, after working with the branch in Australia.
"People give flowers for all occasions and this is just a different kind of bouquet ... you can eat it!"
She uses a variety of chocolates in her bouquets. The show runs until Sunday at the ASB Showgrounds, Greenlane.
Adult tickets are $23, children under 12 $15 and under 5 are free.
.