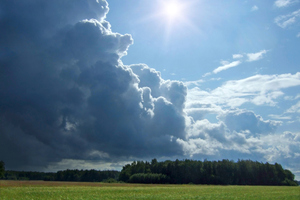 Spring could be warmer than usual for much of the country, music to farmers' ears but not to those planning on hitting the ski slopes.
The National Institute of Water and Atmospheric Research (Niwa) today released its August to October seasonal climate outlook, which says early spring air temperatures are likely to be near average or above average for all regions of the country.
It does not mean the country is exempt from winter-like weather, with cold snaps, frosts and snowfalls still predicted from time to time.
Niwa's general outlook for the next three months also forecasts rainfall to be near normal or above normal in the north of the North Island, below normal for the eastern South Island and near normal in all other regions.
Federated Farmers dairy chairman Willy Leferink said Niwa's outlook was what he and every other farmer would want to hear.
"From our perspective it's to grow as much grass as we can in as short as possible time, so if Niwa says it's going to be warmer than average, it is going to be helpful."
Winter weather had been "fantastic" for farmers, he said.
"We had a beautiful utilisation of trade, there was a big warning of things to come and that didn't come to fruition. We had a bundle of frosts, very dry conditions."
Going into spring with a prediction of warmer weather was "delightful" to hear.
However, for those relying on cooler temperatures to bring snow to the country's mountains the prediction is not so positive.
NZSki chief executive James Coddington said winter had so far been "fairly normal" this year.
"We had cold periods, we had precipitation which came in snow at times and came in rain as others and we had some warm periods and cold periods and that's generally what we experience most winters."
August was usually the month where the mountains got the most snow, he said.
But he said Niwa's outlook for a warmer period was so vague that he did not read anything into it.
The outlook predicts with 40 per cent probability that temperatures everywhere in the country would be above average or near average.
It predicts with 20 per cent certainty it would be below average.
"As far as winter goes, we're very happy with winter and we hope we're going to [continue getting] cold conditions, lots of snow and blue sky days," Mr Coddington said.
- APNZ