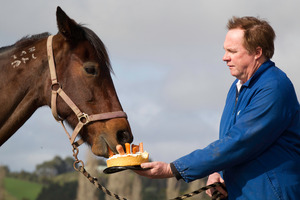 If racehorses blew out candles on their birthday cakes, Perigo would be the only one with 15. Because while all New Zealand's racehorses celebrate their birthday today, only Perigo will be turning 15.
New Zealand's oldest competing racehorse is a worldwide wonder - horses racing at his age are almost unheard of in recent years.
There has been only one other in New Zealand in the past 20 years, thoroughbred Decoy Lad, in 1999.
And Perigo isn't just racing. He is still winning, at New Zealand's most competitive racetrack, Alexandra Park. He will race there again on Friday night. How rare is that?
It is roughly equivalent to a 53-year-old playing in the national rugby championship.
Trainer Kevin Smith is adamant one of the keys to Perigo's longevity is tender loving care. "We never use a whip on him. He is one of the few horses who races without his driver even carrying one.
And that has been the case with him for years. We told the stewards we didn't want to carry a whip with him."
Another reason the granddad of racing refuses to slip into retirement just yet is because he is a cantankerous old fellow.
"He has a lot of attitude," says Smith.
"He likes to do things his way and can get quite aggressive. So at home we never work him in a sulky like a normal horse, we just jog him along behind a quad bike.
"If we try anything else he backs you into a fence and gets very moody.
"And he is never put in a stable. He spends all night outside in his paddock, rugged up to stay warm but in a natural environment."
Most racehorses start their careers aged three and are finished by the time they are seven or eight.
Perigo started as a four-year-old, 11 years ago, and is these days racing the sons and daughters of his original rivals.
When he won on June 22 he beat a horse 11 years his junior. And he recorded his fastest career time at Alexandra Park last start, his 142nd race, resulting in 19 wins.
"He is in great shape and still loves racing because he is aggressive. Like a lot of us oldies he has a few aches and pains on the cold mornings, but apart from that he is perfect.
"And we would love to win a race with him as a 15-year-old because there is a chance that might never happen again in this country."