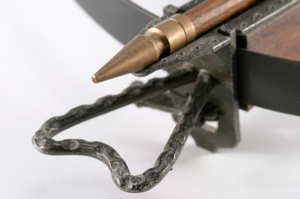 A crossbow is believed to have been used to kill three cattle beasts and injure another near Dunedin last month.
Constable Jon-Paul Tremain, of Waikouaiti, said the internal organs were all that remained of one animal in a paddock in Coast Rd, north of Dunedin.
One was slaughtered but left behind and a third died from a stomach wound "more than likely made by a crossbow bolt", he said.
"The fourth surviving beast had two crossbow bolts recovered from its neck.
"All of the animals involved would have suffered significantly, with one in particular possibly taking hours to die, so it is important that whoever is responsible is held to account," Const Tremain said.
The cattle were part of a herd of about 220 animals grazing a paddock.
It appeared at least two people entered the paddock and killed the animals between 10am and 5.30pm on June 19, Const Tremain said.
Anyone with information is asked to contact Const Tremain on (03) 465-9127 or Crimestoppers on 0800 555-111.