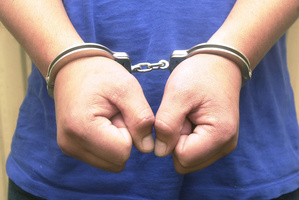 An Auckland man who works with children has been charged with sexual grooming of an underage girl and offering to give her P.
The 43-year-old has been suspended from his workplace, where he has worked for nearly 10 years.
He will appear in court tomorrow for the second time to face three criminal charges of grooming for sex, unlawful sexual connection with a child aged between 12 and 16, and offering to supply methamphetamine.
The man, who did not initially have his name or occupation suppressed, was granted bail and declined to comment when the Herald approached him at his home yesterday. "I'm not interested in talking to you without my lawyer," he said.
He did not name his lawyer, but 15 minutes later barrister Paul Wicks called the Herald.
Mr Wicks then made an urgent application to the court to suppress his client's name, occupation and address on the grounds that publication was likely to cause "extreme hardship to the defendant and persons connected with him".
He said he could not comment on the case as he had not yet received disclosure of the police evidence.
The police started an investigation after being approached by the grandmother of the girl at the centre of the case.
The alleged offending happened in May and text messages between the pair led the police to arrest the man three weeks ago.
The Herald learned of the case after receiving a newsletter distributed last week by the accused's employer which said the senior staff member had been suspended.
"I believe it is important that I forewarn you. This will appear to be vague at the moment but what I am doing is being as open and transparent as I am able given the legal constraints that are in place."
Last night, the employer said he wanted the suppressions to be lifted.
"We've done nothing wrong here. If it came out, for example, I'd much rather that [the man] be named than the finger of blame pointed at anyone else. That's the way I feel."
He said the staff member, who has worked for him for nearly 10 years, was suspended immediately after his arrest and his colleagues told of the arrest, followed by the wider community.
The employer said he visited his worker two days after the charges were laid.
"There has been a mixture of emotions. [The man] has done some good stuff and we're bitterly disappointed. I'm really angry for all sorts of reasons, quite pissed off actually, and really sad.
"We've known each other a long time and this has let a lot of people down."