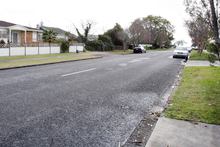 Neighbours of three Te Puke stabbing victims say they are shocked at the incident, which left four people seriously injured.
Police were called to a house in Boucher Avenue about 9.45pm on Friday where the three stab victims were found. A fourth man, who had been beaten with a hockey stick, was found at another Te Puke house.
Tauranga Police Detective Senior Sergeant Greg Turner said four people were admitted to Tauranga Hospital with serious injuries.
The four were taken to hospital from houses in Boucher Avenue and Cameron Road, a St John Ambulance spokesman said.
One male neighbour, a Boucher Avenue resident of six years, said the people who lived at the house were of Indian descent. He believed there were around 10 people living at the property, mostly young men, and that they were fruit pickers.
"They're always out there yahooing, playing soccer and that sort of thing. You hear them out there at night. It can be a bit noisy but they stick to themselves really and we've never had any problems," the neighbour said.
"I was a bit concerned for the elderly people who live nearby, more because of the noise than anything else though."
The man said he had heard nothing of the commotion on Friday night but put that down to being "so wrapped up in the Chiefs-Crusaders match".
A female neighbour, who has been living in Boucher Avenue for a year, said she was surprised to hear of the stabbing incident.
"It's shocking really. Nothing like that has ever happened before. They party a lot and I saw them arguing in the street once but that was it, no violence or anything like that. They keep themselves to themselves mostly," she said.
"There are a few cars which come and go all the time but we've never had a problem with them. It's sad."
Another female Boucher Avenue resident passed the property close to the time of the incident.
"About 10pm I was driving out to Tauranga and passed four police cars and three ambulances coming into Te Puke and I remember thinking something big must have happened. I came home about midnight and by then one lane of Boucher Avenue was closed off around the house where it happened. There were two police cars still there but the ambulances had already left," she said.
Yesterday, the Bay of Plenty Times approached the house where the incident occurred and where seven vehicles were parked. One of the vehicles contained four young men of Indian descent. When asked about the incident the men said they did not want to comment. "You can talk to the police," one said.
A Tauranga hospital spokesperson said last night one man remained in the intensive care unit, in a stable condition. The two other stab victims had been discharged.
The fourth man, a 35-year-old fruit picker, has been charged with assault, remanded in custody and is scheduled to appear in Tauranga District Court today. He will face further charges when he appears.
Te Puke Police said they wished to speak to anyone who might have witnessed the assaults or had information that would assist in piecing together the events of that night.
Anyone with information is asked to contact Te Puke Police on (07) 577 4300. Alternatively information can be provided anonymously via Crimestoppers on 0800 555 111.