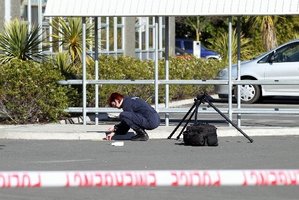 A vicious Hastings assault allegedly conducted by young teens who had been drinking at a party has put a 19-year-old-man in intensive care in an induced coma.
The victim is in a critical but stable condition in Hawke's Bay Hospital's intensive care unit after he was attacked on the Pak'nSave petrol station forecourt on Heretaunga St about 2am yesterday.
The victim received head injuries and was unconscious when taken to hospital.
Senior Sergeant Dan Foley said police had been unable to speak with the victim due to the severity of his injury but progress in the case had been made.
"We have two in custody - a 15 and 16-year-old have been arrested and charged with assault at this stage," he said.
They were due to appear in the Youth Court in Hastings today.
"We have some CCTV footage which has been useful. It was dark and some of it happened outside of the camera's range but it has given us an idea of what happened and the numbers involved."
Detectives and forensic officers worked at the Heretaunga St assault scene yesterday morning in a cordoned-off area amongst Sunday shoppers.
"There's broken bottles and some blood - not much of a scene really," an on-site detective said.
Broken glass was scattered over a wide area and pools of blood visible beside a supermarket trolley bay.
Mr Foley said assaults of this nature were often a combination of alcohol, young men and "a general anger thing" and he did not know of any easy answer to the problem. "They are angry at the world and they want to fight people and they just take people on - that would be my take on it. The alleged offenders are quite young but what they have done is quite nasty."
While the investigation was progressing well, more information was needed.
"A number of persons were in the vicinity of the assault at the time and we are asking for anyone who saw anything to contact the Hastings Police on 873 0502."
In March this year another 19-year-old was bashed in the face at a Hastings party, requiring him to undergo facial reconstruction surgery in Wellington hospital.
Police are still investigating the incident that left the Hastings high-schooler with severe facial fractures.
For more articles from this region, go to Hawkes Bay Today