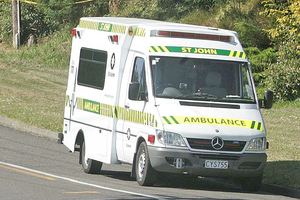 A man has been taken to hospital with serious leg injuries after being trapped by a 700kg hydraulic ramp.
The 50-year-old's legs became pinned under the ramp on the back of a large Kenworth truck in Woolston, Christchurch this afternoon.
St John was called at 1.42pm to the incident at Randolph St, and with help from the Fire Service managed to get the man out.
"He was trapped underneath the ramp for a short period of time," a spokesman for St John said.
"He was extricated and taken to Christchurch Hospital where he is now."
The man has been described as being Status 2 - which is unstable, and could become critical.
It is the second major industrial accident to hit the eastern Christchurch suburb of Woolston in 24 hours.
A drainage worker was crushed to death by a truck at around 3pm yesterday.
Police say two drainage trucks were backed up to each other to pump drains under the road when one of the trucks rolled back, trapping two workers, and killing one.
- APNZ