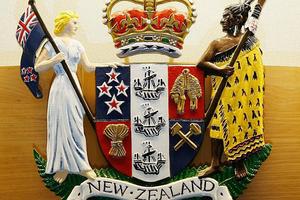 A witness at a Hamilton manslaughter trial thought a man riding on the front of a car and its seemingly nonchalant driver were "students playing a bit of bonnet surfing".
But a court has been told that what Christopher Cook saw was Warren Deane calling police for help on his mobile phone while the driver, William Ashton Thompson, who had been caught dumping rubbish moments earlier, tried to flee the scene.
Thompson, 62, is on trial in the High Court at Hamilton for manslaughter and dangerous driving causing death after Mr Deane fell from his car on October 6 last year and suffered a brain injury.
The 42-year-old university student died in Waikato Hospital five days later.
Thompson was cross-examined by Crown prosecutor Tini Clark, who said he drove 440m with Mr Deane on his bonnet after an angry confrontation over the illegally dumped rubbish.
Ms Clark said he knowingly did not stop his Nissan Primera to let him off.
The court heard how Thompson drove past witnesses on Dey St as Mr Deane yelled at them, "He's trying to f***ing kill me", before they reached the corner of Naylor St.
The Crown alleged Thompson sped up and Mr Deane fell from the car, hitting the ground "like a pancake".
Mr Cook was walking his two dogs on Dey St when he stopped to let them "sniff a bush" and saw Mr Deane sitting on Mr Thompson's car as the vehicle drove past travelling at a speed of about 30km/h.
At first he thought Mr Deane was bonnet surfing, and he noticed that Thompson appeared "nonchalant" behind the wheel.
"There was nothing to indicate a crime taking place - just a guy on a bonnet.
"Believe it or not, in that neighbourhood it's not unusual."
In her closing submission, Ms Clark said Thompson's driving was a "major departure from the standard of care expected from a reasonable person" and his behaviour caused Mr Deane's death.
"A reasonable person doesn't drive 440m with a person sitting on the bonnet and accelerate out."
She rejected Mr Thompson's claim of self- defence, saying Mr Deane was the vulnerable party.
"He was outside and wasn't inside a heavy machine moving forward, was he? He was just standing there calling the police ... Really, what peril was Mr Thompson in?"
But defence lawyer Charles Bean said the jury could not ignore Mr Deane's frequent cannabis use and that he had not been taking his medication for his bipolar disorder at the time of the incident.
He said his client was scared, and Mr Deane's actions in jumping on the car bonnet were "not that of a rational person" after Thompson put the rubbish back into his car and Mr Deane noted his number plate and told him he was calling the police.
Mr Bean said it was Mr Deane's "conscious decision" to jump off the car while it was moving.
The jury will deliberate this morning.