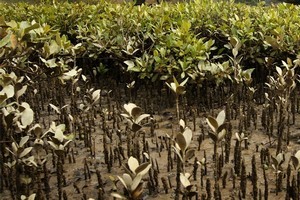 The battle over removing mangroves from Whangamata Harbour is heating up. Photo / Alan Gibson
The battle over removing mangroves from Whangamata Harbour is heating up with one of the country's most high-profile lawyers drafting a bill to have them removed.
Whangamata resident Don Tate is so concerned about mangroves damaging the harbour he has employed Wellington-based lawyer Mai Chen, of Chen Palmer, to draft a private bill aimed at having mangroves deemed weeds. The proposed bill would override the resource consent process and allow for 70ha of the 100ha of mangroves in the Whangamata Harbour to be removed.
The Waikato Regional Council will today be asked to decide whether 40 hours of staff time should be spent drafting a submission to the bill. The council has already spent $1 million in staff time, planning and consent processes and legal costs as a result of disagreement on the issue.
Earlier this year the Environment Court granted the council permission to remove 22.9ha of mangroves in three stages which will occur between March 2013 and 2015.
But Mr Tate said that did not go far enough.
He feared in 200 years time mangroves would have destroyed the harbour and said he believed it was his generation's duty to "leave them in the same way they found them".
Mr Tate has spent $23,000 of his $30,000 budget to have the bill drafted by Ms Chen and he said it should be completed within the next month. The bill would be added to a ballot and have to be drawn out like a lottery to be considered by Parliament.
Meanwhile, in a report to be presented to the regional council today, staff said private bills were very rare and in the past 10 years only 16 had become law.