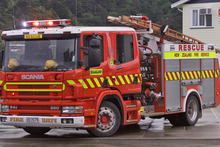 A Hamilton bus driver did an "exceedingly good job'' when he noticed his bus was on fire this afternoon.
The Go Bus bus was travelling along Peachgrove Rd just after 4.30pm when the driver noticed smoke pouring out of the rear of the vehicle, the company's operations director Nigel Piper told APNZ.
"He pulled over immediately, they evacuated and as they got around the back of the bus they realised it was on fire and so they stayed well clear until the fire brigade came and did their thing.''
At this stage the cause of the blaze was not known.
"It will be fully investigated,'' Mr Piper said.
"The bus driver followed procedures to the letter. He did an exceedingly good job and thankfully there was no-one injured.''
The bus pulled up near a school, but Mr Piper said it wasn't a school bus.
He said the fire was contained in the engine compartment and there was no chance of the vehicle exploding.
"But at this stage it's far too early to say what caused it and we'll have to wait until the engineering guys have a look at it.''
A northern fire communications spokesman said the fire had been extinguished by 6.30pm.
- APNZ