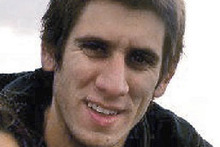 A Chilean man who survived a crash that killed four of his friends will undergo one more operation this week and hopes to head home early next month.
Benjamin Blake, 25, has been in Waikato Hospital since the crash at National Park two weeks ago.
Argentine skifield workers German Caceres, 35, Agustin Donofrio, 25, Luciano Pucheta, 19, and Nicolas Ursic, 27, were killed in the head-on collision as they drove back to their accommodation at Whakapapa after an indoor soccer game.
The Holden Commodore the five men were in was overtaking in a dip in the road, just north of the Makatote Viaduct, when a truck and trailer came around a corner from the opposite direction, police said.
Mr Blake, also a skifield worker, suffered multiple broken bones and has had a number of operations.
His brother Joachin told Santiago newspaper Las Ultimas Noticias that he would have another tomorrow and once he recovered from that, he would travel home.
Benjamin was having problems with his shoulder and had a broken collarbone, his brother said.
Joachin Blake said he spoke every day to Benjamin, who is being supported in NZ by their father, Eric, and Benjamin's girlfriend, Macarena.
Joachin Blake said they hoped to return home to Chile next month.
Benjamin wrote about the crash from his hospital bed. He said he and the Argentines had been grateful they were able to experience and enjoy the "great peace" of National Park.
"Every day we went to work in the Whakapapa ski centre. We were meeting people from around the world. We all, I believe, were trying to enjoy every day as much as possible," he wrote.
Benjamin Blake and Macarena lived with Mr Donofrio, his girlfriend Valeria and Mr Caceres, who was known by the nickname "el Chino".
Mr Blake said he looked forward to getting home, but would never forget what the doctors and other clinical staff had done for him.
By Anna Leask @AnnaLeask

Email

Anna