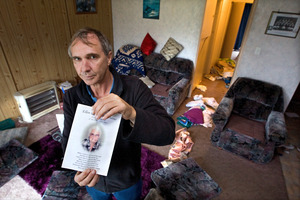 Just days after Barry Porteous said goodbye to his mother at her funeral, he's had to deal with thieves smashing their way into her home and ransacking the place.
Mr Porteous is disgusted someone has not only broken into the Rotorua property, but also went into every room and cupboard in this mother's two-bedroom house and trashed it. He believed the thieves responsible knew his mother had died because they knew when to break in.
"It's just low-lives," Mr Porteous said.
"Some low-lives ransacked my mum's house ... who would do that? We were supposed to move in this week coming."
His mother Ellen Porteous died on July 13 and, on the following Tuesday, her funeral was held. Mr Porteous said the house had been vacant since then but he had been going to the house at least twice a day to open and close the curtains.
"They must've known."
Sometime between 5pm on Saturday and 9am on Sunday when he went to open them, someone smashed through the back windows and ripped everything apart.
He said it was a heartbreaking thing to experience, especially so soon after holding his mother's funeral.
"You're just burying your mum and you walk in to someone ripping the place off.
"It's just a heart-wrenching thing."
Mr Porteous said so far they had only noticed a 107cm flatscreen TV missing but was expecting to notice more gone once the place had been cleaned up.
He said the outside shed had its door ripped off, too.
"Every single room in the house has been trashed."
"They've just gone through every single thing you can think of, they've even gone through the bed."
He had also heard about other burglaries happening in the suburb over the weekend and wondered if they were connected.
Rotorua police said they had received five reports of burglaries in the area over the weekend.
For more articles from this region, go to Rotorua Daily Post