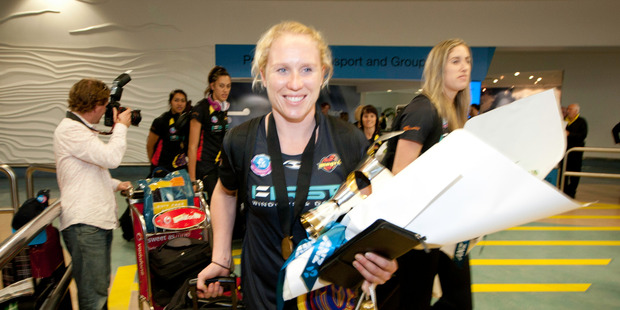 Laura Langman's boyfriend was waiting at Auckland Airport for the champion netballer to arrive home from Melbourne yesterday, thankful that at last he could celebrate a victory in the transtasman ANZ championship.
Adrian Pooley travelled to Australia and was in the crowd to watch as the Magic captain raised some silverware after two failed attempts, but his flight back arrived before his partner's.
Consoling an elite netballer after a loss always involved a softly, softly approach, he joked, with a big smile on his face.
"Laura's ridiculously competitive ... you just say the right things, you just do the things they want you to do ... This - it's awesome. In the past it's been about consoling them, it's so surreal that they've done it."
To celebrate, the pair were hoping to go snowboarding in the next wee while, he said.
Ms Langman said she was looking forward to the break - hopefully somewhere where there would be no cellphone coverage. In the meantime she was looking forward to sharing the win at a mooted Hamilton parade with fans this week.
The match against the Melbourne Vixens came down to a nail-biting finish when a Casey Williams intercept with six minutes to go levelled the score before the Magic came away with a 41-38 victory.
Coach Noeline Taurua said tough wins had been a feature of the season, which early on had the team dead last.
"It's been a fantastic journey and obviously for us to finish it off for the win and the championship just finishes it off nicely."
A small but vocal group turned out to welcome the team home. One fan, Jaimee Quinn, said she was happy the netballers were getting a bottle each of French champagne - the good stuff and not just "sparkling wine" as a little welcome home gift.
Shooting star Irene van Dyk flew back in but will be on a plane today to attend her mother's funeral in South Africa. Because of the emotional week, the popular player was looking forward to something pretty simple.
"Everything has been going a million miles an hour ... and we haven't really had the time to actually sit and reflect on everything that's been happening ... I think it would be awesome to go and sit and have a cuppa and realise: wow, we did it.
"We had our backs against the wall right from round four ... knowing that we had to fight really hard for this, it's very rewarding."