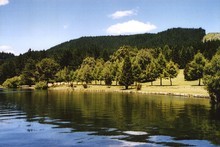 Two men charged over collision between a boat and a sea biscuit on Lake Ohakuri earlier this year have pleaded guilty.
James Trevor Worsnop, 35, a salesman from Taupo, and Tony Wayne Sargeson, 44, a manager from Rotorua, appeared in Rotorua District Court this morning and each pleaded guilty to a charge of operating a boat in a manner which caused danger to Andrew David Wroe on January 2.
Mr Wroe was killed on Lake Ohakuri, southwest of Rotorua, after a collision between a boat and a ski biscuit.