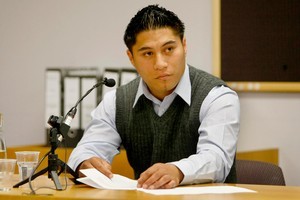 Chris Kahui is no longer challenging the coroner's finding into the death of his twin sons.
Kahui's lawyer Rodney Harrison QC told the High Court at Auckland this morning that the coroner's final finding was different to his preliminary finding.
He said that given the change, his client was no longer challenging the finding.
Justice Graham Lang said the coroner would be releasing his finding shortly.
He also prevented media searching the file without the permission of a High Court judge.
Outside court, Dr Harrison said Mr Kahui would issue a statement once the coroner's finding was released but until then he would not comment.
Coroner Garry Evans held an inquest into the death of the Kahui twins which finished in July last year.
The provisional findings were released to the parties involved, including Mr Kahui.
Mr Kahui challenged the finding by issuing proceedings in the High Court for a judicial review.
The finding has not yet been made public.
Babies Chris and Cru died of head injuries at Auckland's Starship hospital in 2006. Two years later, in the High Court at Auckland, Mr Kahui was acquitted of their murders.
His lawyers alleged that the twins' mother, Macsyna King, caused the fatal injuries. She denied the killings at Mr Kahui's trial and at the inquest.
Under the Coroner's Act, parties in an inquest receive advanced copies of the coroner's findings and can make submissions if there are adverse comments or criticisms.
- APNZ