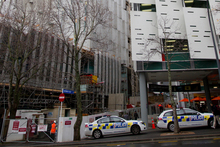 Construction site worker Jarrod Monkley remains in a serious but stable condition after falling six storeys from a central Auckland building on Monday.
The sixteen-year-old suffered two broken ankles, punctured lungs, a neck injury, possible brain damage and his spleen has been removed since he plummeted from the new Auckland University of Technology building on Mayoral Dr.
Jarrod was rushed to Auckland City Hospital where he is in a serious and stable condition, said a spokesman.
He cannot speak because he is in an induced coma but has been able to squeeze his mother's hand.
"They will keep him asleep because I guess when you wake up the human reaction is to panic,'' his aunt Kelly Meawasige told the Herald.
"He is responding, though. He's able to squeeze our hands. There's positive things and as a family we all have to think positive and be there for him.''
Jarrod had only recently left Rosehill College to start with the company contracted to work on the AUT building. he had worked on the site for about a month.
"It's very difficult. You tend to want to break down. As you can imagine his mum and dad are devastated,'' said Ms Meawasige.
- APNZ