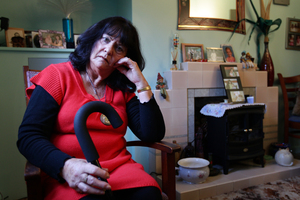 A grandmother was left "screaming with pain" after doctors misdiagnosed her badly broken leg and prescribed weeks of agonising physiotherapy.
Waikato District Health Board is investigating a complaint made last week by Aucklander Andrew Coombes about the treatment of his mother Annette.
The Hamilton woman was admitted to Waikato Hospital following a fall on January 23, but after x-rays was diagnosed with bruising.
Over the next month she remained in the rehabilitation ward and had daily physio, but did not improve, Annette Coombes said.
"I was screaming in pain. [Other patients and visitors said] I was being talked about in the hallway by staff as 'that screaming woman'."
One nurse told her she had a low pain threshhold, but that was not true, the pensioner said.
Widowed at age 32, she was a "real battler" who worked numerous jobs to support herself and Andrew.
"I'm strong ... but in hospital you're vulnerable, you just don't know what to do."
Physio was "terrible", she said.
The worst moment was being told while lying down to roll on to her injured leg.
Coombes, who suffered a stroke nine years ago but has recovered enough to walk, hit rock bottom when she was told one evening to walk to the dining room. She instead called Andrew, who travelled to the hospital and demanded his mother be given a scan.
He was told more urgent cases took priority, but staff relented after he said he would pay for a scan at a private hospital.
The scan showed Coombes had broken her femur in two places and, following surgery, she spent another month in hospital.
Andrew Coombes said he was not happy with the actions of an "inexperienced" physiotherapist who was "on a mission to get [Mum] to walk, rather than being in tune with the fact something else could be wrong".
Because of her treatment his mother spent much longer in hospital than she should have, at enormous cost to taxpayers.
Coombes said she wanted no one else to suffer like she had.
"This could happen to anybody's mother and they might not have the support that I had."
Board spokeswoman Mary Anne Gill said the hospital was investigating.
"We will certainly follow it through. We are thinking of Mrs Coombes and she will be involved in the process."