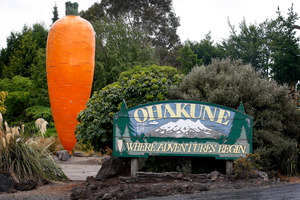 Town slogans - are they tourist-pulling badges of identity or tacky artefacts of a bygone era?
In the mid-Canterbury town of Ashburton - which has Whatever It Takes, or where Life Just Gets Better, depending on which local you ask - the community has been at odds since last week, when Mayor Angus McKay couldn't recall which slogan his district went by.
A random survey of mayors around the country found all could rattle off the words of their welcome signs at the drop of a hat - but not all believed slogans were worth worrying too much about.
"We don't put a lot of time, energy or money into slogans, really - we have fairly generic ones that change all the time," Invercargill Mayor Tim Shadbolt said.
"There's been A Friendly City, the Spirit of the Nation ... every couple of years someone from the planning department comes up with a new one and we adopt that for a while."
Palmerston North Mayor Jonno Naylor admitted the only Kiwi town slogans he could name were his student city's own - Young Heart, Easy Living - and Wellington's much-marketed Absolutely Positively Wellington.
"I would challenge anybody in New Zealand to name any other towns or city's catchphrase and I bet that Absolutely Positively Wellington would be the only one they'd come up with," he said.
"I think catchphrases themselves are largely immaterial unless they're backed up a by a whole lot of stuff. Absolutely Positively Wellington wouldn't have worked if they hadn't made significant investments in the waterfront, the stadium and attracted new events ... otherwise it would have turned into a Tui billboard."
His view was shared by Hauraki Mayor John Tregidga: "Frankly, unless you do huge publicity, then they don't work generally - you can waste a huge amount of ratepayer money on slogans."
In Gore, where the visitor is welcomed to the World Capital of Brown Trout Fishing, Mayor Tracy Hicks saw pushing the town's other image as New Zealand's country music capital was just as crucial for tourism.
"Both of them are important and they've both been icons in the community. Something that's not officially a logo but which we've been using a bit lately, is 'Gore: A little bit wild, a little bit out there'."
Dale Williams, Mayor of New Zealand's self-proclaimed Kiwiana capital Otorohanga, reckoned his town's branding told tourists "when you come to Oto, you're going to meet real Kiwis and make a connection".
He felt every town should have its own slogan. AUT tourism professor and director of the New Zealand Tourism Research Institute Simon Milne said brands were one element of creating a competitive tourism destination - but the community first needed to behind it.
But while it was important to have a brand, gauging its direct benefits was another question.
To Cambridge publisher Josh Easby, whose four-month road trip of the country culminated in a coffee-table book featuring 350 different welcome signs, the perfect slogan instantly sums up the town's character.
"The analogy I've always used is like two strangers meeting. One sticks out his hand and says, 'Pleased to meet you'. A good welcome signis the community's way of doing that."
Name game
Town brands of the past and present:
Dannevirke: "Take a Liking to a Viking."
Hamilton: "More Than You'd Expect."
Glenorchy: "Gateway to Paradise."
Ohakune: "Where Adventures Begin."
Mosgiel: "The Pearl of the Plain."
Amberley: "Take Your Time."
Nelson: "Live the Day."
Lower Hutt: "We've Got the Lot."